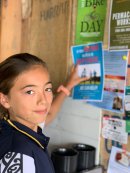 Koko Wong
Promotional Assistant
Koko is one of Volunteer Marlborough's youngest volunteers at 11 years old. She got into volunteering when she started at Intermediate School and was given a "Maximising My Potential" challenge. She approached Volunteer Marlborough and started as a Promotional Assistant.
Koko really enjoys knowing that she is helping her community when she volunteers and she likes that there are so many different opportunities to volunteer so that it never gets boring.
In her spare time, she plays waterpolo, swims and loves to read.
Koko says, "I encourage anyone that has spare time to come along and volunteer!"