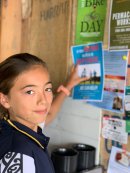 Koko Wong
Promotional Assistant
Koko is one of Volunteer Marlborough's youngest volunteers at 11 years old. She got into volunteering when she started at Intermediate School and was given a "Maximising My Potential" challenge. She approached Volunteer Marlborough and started as a Promotional Assistant.
Koko really enjoys knowing that she is helping her community when she volunteers and she likes that there are so many different opportunities to volunteer so that it never gets boring.
In her spare time, she plays waterpolo, swims and loves to read.
Koko says, "I encourage anyone that has spare time to come along and volunteer!"

Julia, Emily, and Elsie
Promotions Team
Julia and her daughters Emily (7) and Elsie (4) have been in Marlborough for around 20 months and have been involved in community activities in all the areas they have lived in - from collections and fundraisers to planting and play groups.
They are all social beings who love interacting with people, exploring the surroundings, learning about the environment and enhancing it, forming a strong sense of belonging and have an adventure along the way!
Discovering Volunteer Marlborough has allowed them to achieve all this, while giving back and also serves to encourage all these values throughout the community and feedback to friends and family on the learnings and activities.

Ashlee (she/her) & Jade (they/them) Martin
Office Assistance
Ashlee and Jade Martin are siblings who have always been involved in volunteering in the community in some way. Since they were very small, they have heard their mother, our Manager, speak about the benefits of volunteering and it is now well and truly 'in their blood'.
Ashlee is 19, works full-time locally, and comes in to help with data entry, member liaison, filing, and any other administrative tasks that might come up. While finishing school, she worked part-time since the age of 13 while also volunteering spontaneously. She has previously been involved with Marlborough Netball as a referree, various street appeals as a collector, Marlborough Youth Trust as event help, and the Superkids holiday programme.
Ashlee adores cats, enjoys spending time with her friends, and runs a small online business with her mother creating t-shirts supporting the Mental Health Foundation and Rainbow Youth.
Jade is 17, works part-time locally since they were 14, and comes into the office to help with any miscellaneous tasks that might need an extra person. They are currently training to be a member liaison volunteer. They are still finishing school, completing their NCEA Level 2 online through Te Aho o Te Kura Pounamu. They have been involved with Marlborough Youth Trust for three years as a volunteer for events and now as part of their MYTAGs and as a co-leader of the Queer Youth Marlborough group, has put their hand up for various street appeals as a collector, helped with the Superkids holiday programme, and has recently started the training to volunteer at ASB Theatre.
Jade enjoys time with their friends, playing Magic the Gathering and D&D, and learning about classical mythology.
When asked why they volunteer, both Ashlee and Jade said they like to know they're giving back to the community, but also that they're learning new skills and adding valuable experiences to their CVs.