Want to Volunteer?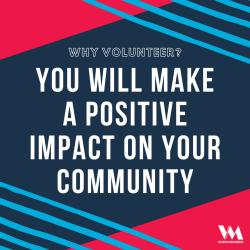 Volunteer Marlborough works with over 150 non-profit, non-governmental organisations who are looking for your help. There are some amazing opportunities in volunteering.
There are so many organisations that you could volunteer with and some you might not have thought about. Positions could include anything from administrative support, environmental conservation, befriending and mentoring, event assistance, animal welfare, governance roles, and more.
Volunteers come from many backgrounds and with all levels of skills and abilities. Whether you have one free hour a day, week, or month, there's sure to be a voluntary position for you.
Things to know:
Volunteering can take as little as one hour per week. Different roles require different amounts of time, have a look at the role description to find out more.
You can volunteer on weekdays or evenings and weekends – it's up to you. Some roles can only be performed at certain times, but there is something available for everyone.
You don't need to have specific skills or experience to volunteer. Many roles provide complete training and support, so it's a great chance to try something new!
Reasons to volunteer:
Are you just starting your work career and need work experience for your CV?
Are you returning to work after a break or illness and need a refresher or confidence boost?
Are you new to the country or the community and need to build a network and meet people?
Do you want to make a valuable contribution to your community?
Are you training or thinking of training and want to try out your new field?
Do you need a balance to your nine-to-five life or want to relieve boredom?
Here's how to get started:
Think about why you would like to volunteer. What would you like to achieve? Who would you like to help? What will you get out of it? These are important questions and will help guide your choice of role.
Check out our current opportunities. Browse by type of role, location and hours, or search for keywords.
Register your interest. If you find a suitable role, then complete the application form at the bottom of the role description and you'll hear back from us about how to proceed. There is no obligation at this stage – it's simply an opportunity to find out more about the role and and how to get started.
New to volunteering? Unsure about something? If you would like an individual consultation to discuss your situation, arrange a discussion with one of our team - simply give us a call and have a chat on (03) 577-9388.
Reverse Recruitment
If you have looked through our list of open volunteering opportunities but nothing strikes your fancy, this doesn't mean you can't help out. You might be looking for a volunteering opportunity that is a little out of the ordinary or you might be looking to use specific skills. Alternatively, the types of volunteer roles listed on our website can change throughout the year and we may just not have what you're looking for at the moment; it doesn't mean that the perfect role for you isn't out there.
This is where our Reverse Recruitment program comes in. Reverse Recruitment is a FREE service that involves you sitting down with a VM staff member to talk about who YOU are and what YOU want to get out of volunteering. We ask about your dreams, hobbies, skills, passions, experience, future plans, etc. We then build a unique profile and send it out to our network of community organisations and groups so that we can find an opportunity that is tailored just for YOU!⁠
Interested? Sign up here or make an appointment via our main Facebook page, by calling 03-577-9388, or emailing vm@volunteermarlborough.org.nz