Group Volunteering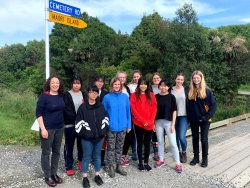 Volunteer Marlborough can organise volunteering projects in the community for groups of all sizes.
We currently work with a range of groups - churches, schools, families, polytechs, businesses - finding them suitable one-off (or ongoing) voluntary projects in areas of interest to the group.
How can we help?
Volunteer Marlborough can provide a range of group volunteering opportunities to meet the needs of your team. Whether you want to plant trees, help at a special event, paint a building, or provide other support for a community organisation – we can help make it happen!
View Opportunities
---
Team Volunteering Enquiry
If you have a team that are looking to volunteer, the first step is to let us know by completing the form below or giving us a call on (03) 577 9388.
Our Group Volunteering Coordinator will be in touch and arrange to discuss your needs as a team, and potential projects.