Meg Martin (she/her)
Manager
Email: mgr@volunteermarlborough.org.nz
Meg has been with Volunteer Marlborough for more than 10 years now, taking a position as the Volunteer Services Coordinator in 2011 and then the role of Manager in 2013.
Volunteering and community involvement has always been important to Meg and she has put her hand up for many an opportunity over the years including roles on school PTAs, Victim Support, Girl Guiding, and street appeals. Recently, she welcomed the opportunity to join the board of trustees of Top of the South Neighbourhood Support serving Marlborough, Nelson, and Waimea. She also bakes for Good Bitches Baking and is a helpline counsellor for Youthline Central South Island.
Meg has a Diploma in Legal Assistance, Diploma in Library & Information Studies, and is working on completing her Bachelor of Library & Information Studies. She has also completed her certificates in Train the Trainer, Mental Health 101, Youth Code of Ethics, and various other smaller Not-for-Profit courses as part of her ongoing professional development.
Meg has been married to her husband, Colin (a.k.a. Moose) for almost two decades, is the mother of 3 young adult children aged 17, 19, and 20, is an avid book lover....sometimes known as a book dragon.... and an enthusiastic pet mum. In her spare time, when not curled up with a book, she can often be found illustrating other's photo memories, or having a well deserved nap!
Fun fact - Meg was born in Bermuda! She adores cows, is a Canadian and a Kiwi citizen and is very happy to have made Marlborough her home.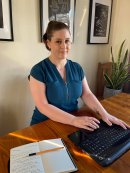 Hannah Cunningham (she/they)
Coordinator - Volunteer Services
Email: vm@volunteermarlborough.org.nz
Hannah joined the Volunteer Marlborough team in August 2017 to take on the role of Coordinator for Volunteer Services. In this role, Hannah liaises with both volunteers and organisations, seeks to match them up, and also runs the Volunteer Marlborough social media channels.
Hannah believes volunteering is an invaluable part of society. She was introduced to the world of volunteering at a young age when she joined the volunteer team at The Salvation Army Family Store at 14. Since then, she has gained a wide range of personal volunteering experience including: collecting for charity street appeals and helping in a drop-in centre for homeless people. Through volunteering as a Facebook Coordinator for the Marlborough Rural Advisory Group, Hannah has also discovered a passion for supporting community collaboration through social media communications, which has led to her working as a freelance social media manager when she's not in the Volunteer Marlborough office.
Hannah grew up in Blenheim and returned in 2016 after completing her Masters Degree in Psychology. Hannah now lives locally with her whānau, and enjoys embroidery and watching sci-fi in her spare time.