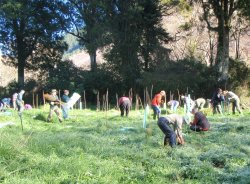 These working bees normally involve planting or weeding, but other tasks may be involved.
The Trust invites businesses who would like to participate in corporate service days or team building days, to enquire about opportunities to assist with freshwater protection and biodiversity projects in our district.
We'll ensure the working bees are fun, there is a task for all fitness's, and normally kai is involved!
All logistics will be finalised with the participating business.
Requirements:
Participants must be willing to work between 3-6hrs (including travel) - this will be arranged depending on the role and location
Participants must provide their own solid footwear, gardening gloves, sun protection and wet weather gear, and travel to the site. Ideally participants provide their own spades etc but some can be provided.