The Volunteer of the Month Award for October 2023 was awarded to the wonderful team that staff the information desk at Wairau Hospital.
Te Whatu Ora is committed to delivering a health system that is simpler and more coordinated, allowing for better and more consistent care to support all of us to live longer and have the best possible quality of life. Sometimes that means that, as patients, we need to attend appointments at Wairau Hospital, or even be admitted. Simply showing up to the hospital can be a daunting prospect for some people so there is a wonderful and friendly team of people who take turns behind the information desk, right inside the front entrance, to greet people with a smile and make them feel a bit more at ease.
This team of people offer a warm, friendly welcome to patients and visitors to the hospital, directing them to the various departments, help them to feel a bit more at ease and will sometimes even escort them to their desired location. They provide information or advice on the location of services that are available within the hospital to patients and visitors, such as the cafe and chapel, and they're a wealth of other information.
Jo Moon, Volunteer Coordinator for Te Whatu Ora Nelson Marlborough says "these wonderful people volunteer because they want to give back or pay it forward. They enjoy working in the community and supporting a service that supports and appreciates them as well. They're far more than just a smiling face at the front desk".
The volunteers volunteer at Te Whatu Ora, however are provided and supported by Hospice Marlborough through the hospice volunteer programme.
Jacinda McKenzie, Hospice Marlborough Volunteer Coordinator, says "this is a heartwarming ongoing collaboration between Hospice Marlborough, Churchill Specialist Hospital, and Wairau Hospital. Members of our valued volunteer programme help to deliver information and advice on the location of services within the hospital such as the cafe and chapel. Hospice Marlborough was absolutely thrilled to hear of the recognition for the team."
When the team from Volunteer Marlborough met with the group of volunteers, we had a chance to speak with them about what they do and why they do it. We learned that the team has had some challenges to overcome this year. Not only have they had to navigate a return to their roles since Covid, but there have been many changes made in the hospital around infection prevention and visitor limits, changes that are necessary but required some re-learning of processes. The team has adapted to these changes beautifully, says Jo, even through personnel changes.
Curious about what their favourite parts of volunteering at the information desk might be, and why they started volunteering there in the first place, we had a chat with some of the team members:
Jackie - "I already volunteer elsewhere in the community but wanted to do more and heard about the hospital. I love talking to the people who come through the door."
Heather - "I retired and wanted to give something back to the community. Giving people some peace of mind when they have a problem, and providing a listening ear are my favourite things."
Vonnie - "I just like being friendly. Sometimes I might be the only person they talk to all day!"
Kaye - "I spent quite a long time in the hospital about 10 years ago and wanted to give something back in return."
The whole team agreed that one of the biggest things for each of them is being a friendly face when patients and visitors feel uneasy, and that being able to take their knowledge out into the community to help with advice about places of support is important to them.
Jo went on to tell us "the team provide non-clinical advice, information, and support to patients and their families in a very demanding hospital. They try to make a difference in someone's day, knowing that people can be extremely unwell, confused, injured, upset, concerned, and that the anxiety and stress that comes along with that can be overwhelming for some. They're also there to support staff. This may be in the form of a wee joke, or a brief chat to support professional staff in what can be a very busy and overwhelming day.
In a place like Wairau Hospital, information and support can be just as important as the treatment that people are receiving. It can make a vast difference not just to the patient but to their whanau as well. If they have arrived upset or anxious because of a previously bad experience or because they're lost and don't know where to go, it can compound any existing problems in their health journey that they're on.
The Hospice Marlborough volunteers that help out at the hospital's information desk all have excellent communication skills, patience, empathy, and an appreciation of what people might need from them. "We are so thankful that the team support our community. It really is about first impressions and friendships," says Jo.
The team at Volunteer Marlborough extends a massive thank you to the Information Desk volunteer team. You are all an asset to the Marlborough community, and we are lucky to have you!
(Pictured: Back row [L-R] - Jo Moon, Kaye Eccersall, Heather Goulter, Sue Plummer, Jackie Browning, Vonnie Waddington, Nita Croad; Front row [L-R] - Bev Harford, Vicki Cowdrey, Marilyn Kerekere, Gwen Scammell)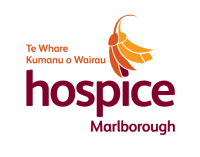 ---
Thank you to New World Blenheim for sponsoring our Volunteer of the Month Award.